I Lost My Wedding Ring
Yeah, you read it correctly. I lost my wedding ring. Here is the story.

This past Sunday my wife and I and some friends of ours drove to Brevard, NC to Pisgah National Forest. There is a sliding rock there. Not "The Sliding Rock," but a smaller more fun sliding rock with less people.
By the time we arrived at the sliding rock it had begun to grow a bit cloudy, which made the already cold water even colder and my wedding ring a little bit looser. The second time down the rock I stretched out my left hand for support on a rock and to my horror felt my ring fall off my finger and into the moving current. I immediately told everyone what had just happened and tried not to make eye contact with my sweet wife. A 45-minute search began which produced nothing but blue lips and numb feet.
We continued our swimming and picnic, but couldn't help expressing from time to time, "Bummer." As we drove the two hours back home we tried to understand God's purpose and rejoiced (as best we could) that the ring was replaceable and nothing worse had happened.
On Monday we toyed with the thought of going back up there, "Just to check and make sure we had done our best." I really didn't think it would matter but it wouldn't hurt to try. A guy at Vanessa's work offered us his metal detector that was waterproof. (Go figure) So Tuesday afternoon I decide, "Hey, It's worth the try." My boss agreed to let me take the afternoon off. I called my friends who had come the day I lost it and asked if they wanted to join me and they readily agreed. We headed up to Brevard knowing that God is in the business of bringing Glory to himself. Whatever way will do that the most, is the path He will take. Sure enough after five minutes of searching, a bottle cap, and a penny, my precious wedding ring was found. It was just sitting under four feet of water. Thanks to Fred, a guy I had never met, who spotted it first. Fred had lost his wedding ring once and he decided to help us look.
Praise the Lord. He is good. My friends and I had a great afternoon of sliding down the rock. It was more fun this time. Needless to say Vanessa was amazed and thrilled when I returned home with the symbol of our vows once again on my left hand. I honestly did not expect to find it. But He proved to me that day that He is the God of the little things, as well as the big.
Posted by micahellis at
11:40 AM
|
Comments (11)
Mindless Pap
"Most of what passes for legitimate entertainment is inferior or foolish and only caters to or exploits people's weaknesses. Avoid being one of the mob who indulges in such pastimes. Your life is too short, and you have important things to do. Be discriminating about what images and ideas you let in your mind. If you yourself don't choose what thoughts and images you expose yourself to, someone else will, and their motives may not be the highest. It is the easiest thing in the world to slide imperceptibly into vulgarity. But there's no need for that to happen if you determine not to waste your time and attention on mindless pap."
—Roman philosopher Epictetus (AD 55-135), in his work The Art of Living
Finally brothers, whatever is true, whatever is honorable, whatever is just, whatever is pure, whatever is lovely, whatever is commendable--if there is any moral excellence and if there is any praise--dwell on these things. Philipians 4:8
Posted by micahellis at
11:25 AM
|
Comments (2)
An Exodus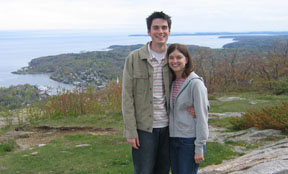 Here is an official announcement. Vanessa and I are leaving Greenville at the beginning of August and are headed to Camden, Maine. I will be the assistant to the Pastor/ Youth Pastor at Cornerstone Baptist Church. This will be a part time position, so I will be designing a good bit as well. My last day at the Press will be July 30th.
Vanessa and I are very excited as we take this step. I have found that God is so lovingly persistent in his quest to work His perfect will in our lives. It is an incredible privilege and joy to be in the very center of that will. Please pray for us if you think of it. I do not know many of you, but you've been a spiritual encouragement already in your many comments and posts.
Any contributions before the throne of God on our behalf would be very much appreciated.
I am sure of this, that He who started a good work in you will carry it on to completion until the day of Christ Jesus. Philippians 1:6
Posted by micahellis at
06:56 PM
|
Comments (14)