News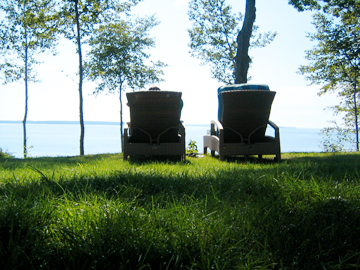 Well, I figure since I am somewhat in the mood to post I might as well give an update of sorts on what is happening in our lives. It could be years until I post again so I might as well take advantage of this rare moment. :)
Well, first things first. Vanessa and I are expecting our first child sometime in mid-March. We are very excited. Vanessa is a little over 2 months along. Please keep her and us in your prayers over the next 9 months as we await the arrival of our "son." Vanessa and I also celebrated our 2 year wedding anniversary last Tuesday, so we are now old pro's and will offer marriage counseling to people married for one year or less.
This morning we made an offer on a house in Hope, Maine, about 10-12 minute drive from Camden. After sometime of offers and counter-offer's, our offer was accepted. The house is on Beaver Lodge Rd. for those of you who know where that is, and care. Consequently, The rest of August and September will be busy with housing inspections and such and hopefully closing on the house.
Well, that's it for now.
We give praise to God for His blessing and for His grace to us in these beginning years.
Posted by micahellis at
10:46 PM
|
Comments (7)
Seeking Early
I am coming back from exile (yes, I am aware it's been forever since I last posted) to share a new blog I believe will be a blessing. My Pastor, Tim Gillam has started a blog entitled, "Seeking Early."
For some time Pastor Gillam has been writing devotionals under this title and e-mailing them to members of our church and others on his mailing list. A couple of days ago he decided to start a blog under the same title and started putting those devotionals on it.
Take a look and enjoy.
Posted by micahellis at
10:18 PM
|
Comments (0)