Wheelin' and Dealin'
A week ago we made the largest purchase of our young married life so far. We picked up a 1999 Ford Ranger, extended cab (4-door) to become a 2-car family. We bought the truck from a guy who sells repossessed vehicles, so we got a good deal.
I had owned a truck in high school and college and loved it, but it was neither long-lived nor practical after leaving school.
Now it's practical again, and I join my parents, father-in-law, and uncle in owning extended cab Rangers.
Click on the image below to see a slightly larger version.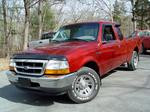 Posted by JRC at March 6, 2004 02:26 PM